In a split second, a motor vehicle accident can ruin your whole life. Apart from a wrecked and possibly written off vehicle, your welfare and health are affected. Your ability to work is also affected. You start to worry about medical bills and many other expenses that will contribute towards your recovery. During this time, you're also seeking compensation, so you are always on the phone with your insurance company, trying to claim what you deserve. This can be frustrating!
Everyone in Arkansas is granted a chance to seek compensation for any emotional harm, physical harm, and damages to the property caused by a motor vehicle accident. You are entitled to compensation regardless of the severity of the loss or who was at fault. Sadly, the quest for reimbursement is not easy. Even with a valid claim, you might get frustrated in your efforts to get compensation. Imagine fighting a legal battle while still recovering. It is overwhelming. You can avoid this by hiring a Fayetteville car accident lawyer.
At Keith Law Group, we are committed to ensuring that motor vehicle accident victims get full compensation for injuries and damages. To schedule a free no-obligation legal consultation on your case, call (479) 326-7761.
How Much Does A Car Accident Lawyer Cost?
In Arkansas, it is your legal right to get representation without paying upfront; this is referred to as contingency payment. Most car accident attorneys, including us, charge you on a contingency basis. Payment on a contingency basis means we will only get paid if we recover money after successfully contesting your case. With us, you don't have to worry about payment; you can sit back and recover and wait for our experienced auto accident attorneys to help you recover the compensation you deserve. Then, and only then, can you pay us! No win, no fee!
What Should I Do After A Car Accident?
If you find yourself in a car wreck in Fayetteville, we at Keith Law advise you to follow these guidelines:
Contact law enforcement.
You are required by the law to check on other involved parties and provide reasonable assistance. Don't leave! You don't want to look like a hit and run driver.
Record or take pictures of the crash, including the damaged vehicles and casualties.
Record any statements made by eyewitnesses.
The parties involved should exchange personal information, including names, phone numbers, license plate numbers, addresses, and driver's license numbers per Arkansas's laws.
Do not own up to any degree of culpability in the wreck.
Seek medical attention from the nearest hospital.
Contact a car accident lawyer available near you.
When Should I Get A Lawyer For My Auto Accident?
When you get injured in an auto accident, a moment should not go by before you seek a car accident lawyer's services. It would be best to get a lawyer immediately because insurance companies, through their attorneys and adjusters, start to evaluate your claim immediately. If you waste any time, you will be left to play catch up with the insurance companies.
Why Do I Need A Lawyer?
There are several reasons to work with an auto accident attorney. Here are the benefits you will get by hiring the services of Keith Law Group.
Early Settlement: Our car accident lawyers can come in handy in settling the case early and out of court.
Calculate Compensation: Our lawyers will assist you in computing a reasonable amount of payment.
Gather Evidence: Our lawyers will help you quickly get all the evidence you need to support your claim.
Fault Determination: Our lawyers will help you know if you have a chance of getting compensation by determining who was in the wrong.
Insurance Representation: Our lawyers will protect you from untrustworthy insurance adjusters, who will stop at nothing trying to make you settle for as little as possible.
Court Representation: Our attorneys will prepare for the case and represent you in court if a fair settlement is not offered.
What Types Of Damages Can I Recover In Fayetteville, Arkansas?
Under Arkansas's laws, the types of injuries and losses will determine the damages awarded.
Economic Damages
Economic damages seek to compensate for the damage to your vehicle and consider the extra costs of fixing the wrecked car. Monetary damages also cover the medical expenses, be it in the past or the future. Economic damages can also include compensation for past, current, and future lost income.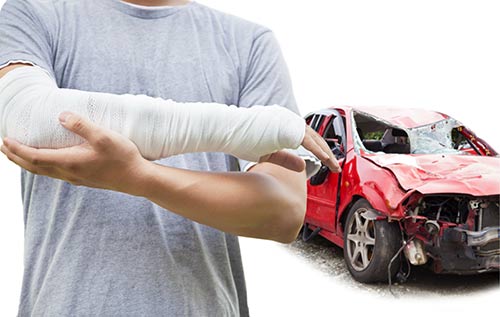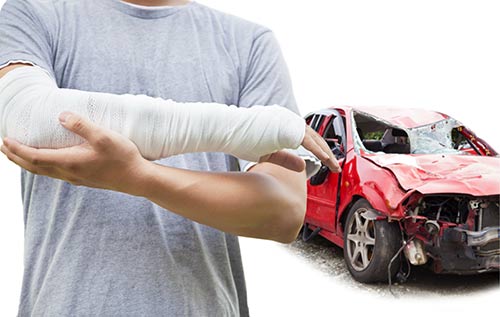 Non-Economic Damages
Accident victims are allowed to recover damages for all the pain, suffering, and mental distress caused by the car accident.
Punitive Damages
The criteria for awarding these damages is if the at-fault driver operated the car maliciously. This is because the purpose is to punish the defendant.
How Is Fault Determined For Auto Accident Cases In Arkansas?
Arkansas deals with motor vehicle accidents a little differently. It has a "modified comparative fault" rule for all auto accident cases. This means that a judge or jury in Arkansas can assign blame or fault to the parties involved in the crash, and you only lose your case if you are found to be 50% at-fault or more. However, in some incidents, the fact that you played some degree of fault does not block you from accusing the other party of being responsible for the accident or claiming compensation.
So, if a jury or judge finds you 10% responsible, you recover 90% of the damages instead. A Fayetteville car accident lawyer with Keith Law can help you frame your case in such a way that puts most fault on the other parties and help defend you from defenses and counterclaims that attempt to shift the blame on you.
How Long Do I Have To File A Claim In Arkansas?
In Arkansas, you have three years to file a claim after a car accident. If this period expires, you have no right to file a personal injury lawsuit.
Insurers in Arkansas have 15 days to acknowledge it after they've received it. Investigations should be complete 45 days after opening the claim. A lawyer can help follow up on your insurance claim and even help file an appeal if your claim is denied.
How Can A Fayetteville Car Accident Lawyer Help Me File My Insurance Claim?
After a car crash, the last thing insurance companies want is for you to speak to a car accident lawyer. This is because having legal representation will hurt their chances of getting you to settle for less. At Keith Law Group, we have experienced attorneys that can help you navigate the murky waters of filing an insurance claim after a motor vehicle accident.
Insurance companies are not your friends when it comes to car accident cases. They will focus on protecting their profits by minimizing your compensation. They have experienced insurance adjusters whose job is to ensure you get the least compensation possible or none at all. Our experienced car accident lawyers, on the other hand, have your best interest at heart. Our team of professional lawyers is available round the clock to get a fair settlement. Call us at (479) 326-7761 for a free initial consultation.