As more and more local motorists seek the economic benefits and sheer thrills of motorcycle transportation, the chances of getting involved in a motorcycle accident in Northwest Arkansas climbs higher and higher. Due to the nature of motorcycle design and the high speeds of which they are capable, motorcycle accidents are typically more serious than regular car accidents.
If you or someone in your family has been injured in such an accident, you have a right to seek compensation. Call (479) 326-7761 today to make arrangements for a free consultation with a Rogers motorcycle accident lawyer. Keith Law Group is dedicated to ensuring you receive the rightful payout for your damages.
How Can a Rogers Motorcycle Accident Lawyer Help With My Compensation Claim?
There are some important advantages to having your motorcycle accident case handled by the professionals. This includes:
Dealing with Insurance Providers
The crafty insurance adjusters will look for every reason to deny your compensation. But a skilled lawyer knows your rights and will ensure they are respected.
Preparing a Bulletproof Case
Your Rogers motorcycle accident lawyer can ensure that all aspects of your case are perfectly presented and accounted for. This legal accuracy makes your case process easier and carries more heft in negotiations.
Higher Payouts
A seasoned personal injury lawyer will be able to call in the experts and ensure that all damages are accounted for and that full-restitutions are made.
Court Case Preparation
If a resolution can't be found, the case will have to be settled in civil court. Only an experienced lawyer will understand how to move this case in your favor.
What are the Most Common Causes of Motorcycle Accidents?
Motorcycle accidents are typically caused by someone's indifference to specific traffic safety laws and guidelines. Here are some of the most common causes of motorcycle accidents in Rogers, Arkansas. As you can see, most of these are avoidable and preventable.
Speeding
Failure to yield the right-of-way to a motorcyclist
Turning in front of an oncoming motorcyclist
Driving too closely to a motorcyclist
Failure to signal a lane change in front of a motorcyclist
Faulty mirrors, brakes, or lighting
Drunk driving or drugged driving
Failure to pay attention to motorcycles
There are many instances when an accident occurs because the driver of a larger vehicle failed to see the motorcycle in the traffic. But, sad to say, many drivers do not consider the danger their driving style may have for motorcyclists. This means they may follow too close and run the risk of a serious collision if the motorcycle has to brake from high speed.
These accidents can be especially dangerous and oftentimes even the protective gear a motorcyclist will often wear cannot save them from the serious injuries of high-speed collisions. Injuries from even low-speed motorcycle accidents can be very serious due to the dangers of getting thrown from a moving vehicle.
Motorcycle Accident Statistics in Arkansas
The safety of motorcyclists seems to be improving ever so slightly. Across the country, 4,985 motorcyclists were killed in 2018 making this a 5% decrease from the previous year's figure.
In Arkansas, out of the 516 traffic fatalities in 2018, only 66 of motorists were on a motorcycle in the collision – a mere 12% of all traffic fatalities.
What Are the Motorcycle-Specific Laws in Arkansas
There are some very important rules that every motorcycle driver should be aware of as they make their way around the streets, roads, and highways of Rogers, Arkansas:
It is mandatory that all motorcyclists, drivers, and passengers, under the age of 21 wear a helmet.
No passengers under the age of 8 years old are permitted on a motorcycle.
Passengers are only allowed to use a proper motorcycle seat.
The motorcycle must be compliant with the safety standards outlined in Arkansas Code Annotated Section 27-20-104.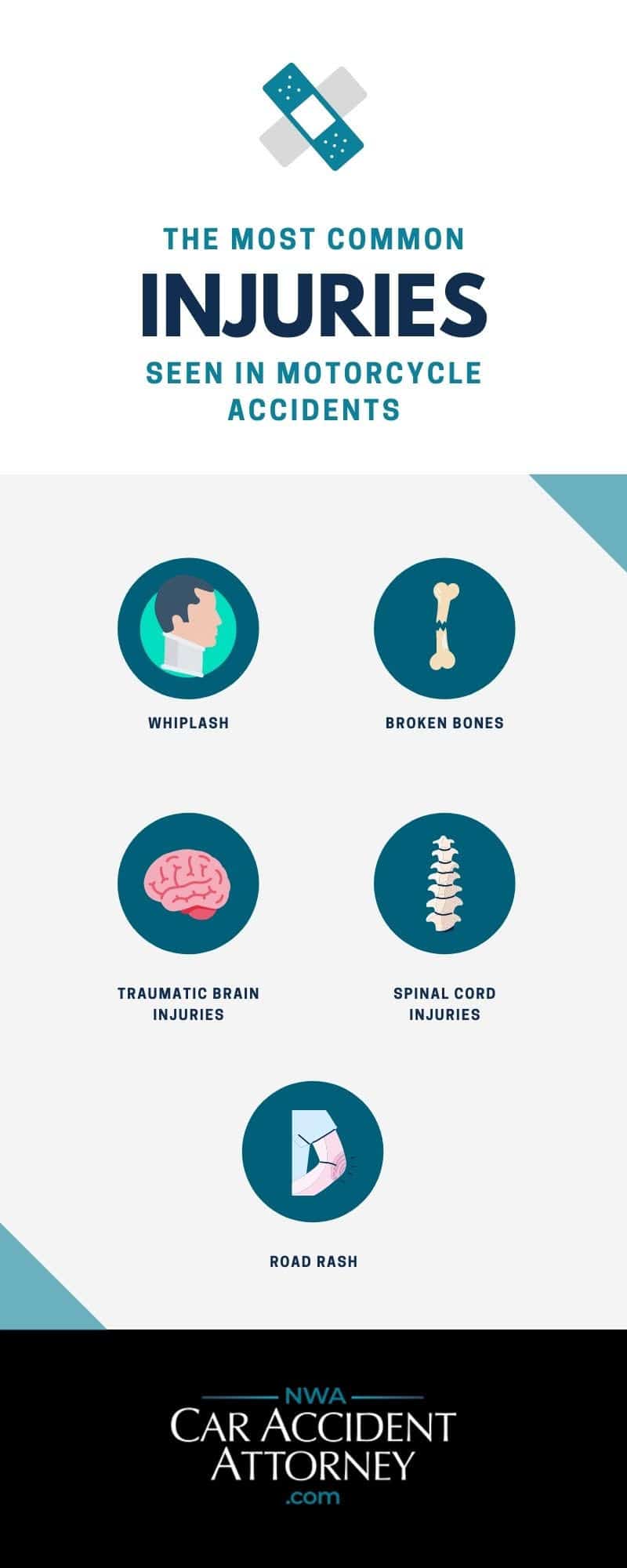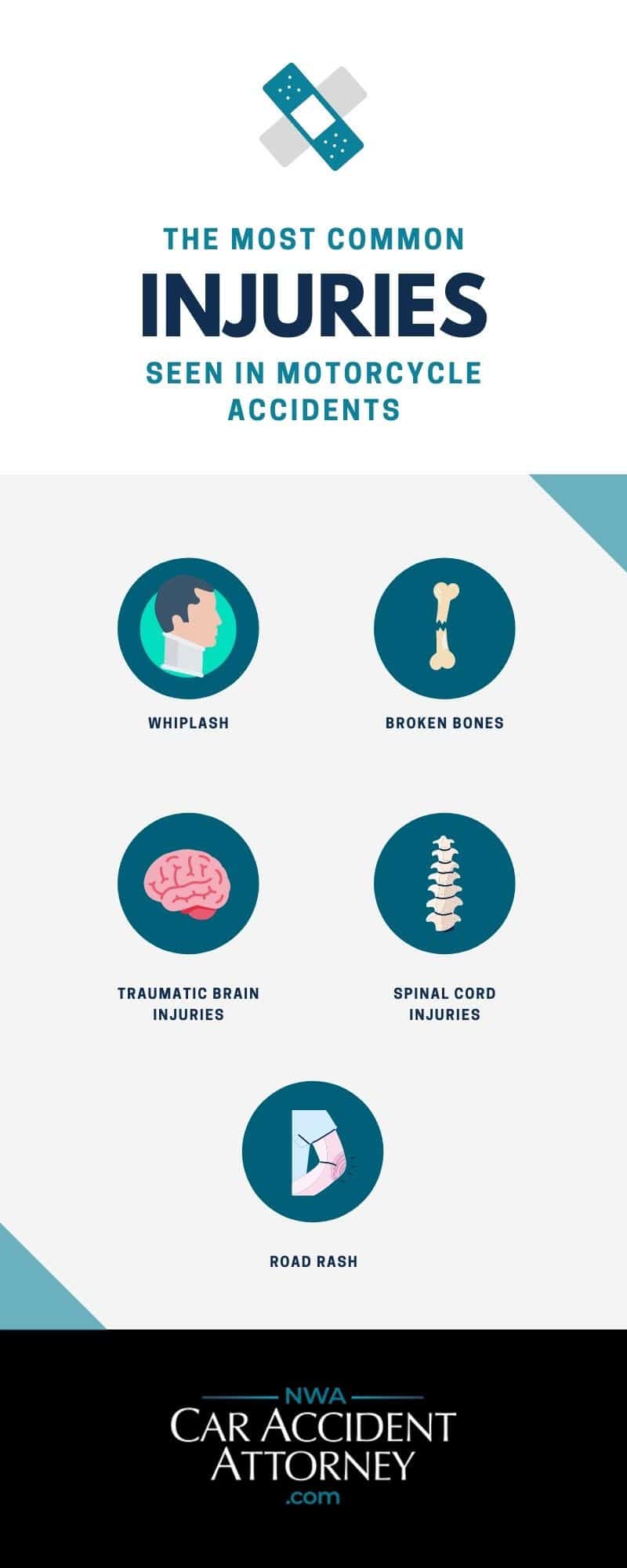 What are the Most Common Injuries Seen in Motorcycle Accidents?
Motorcycle accidents have been known to cause extremely serious consequences. While protective gear can do much to save a life, especially a helmet to protect the head, there is still a risk of many other injuries that can occur in such an accident. Some of these include:
Whiplash
Whiplash occurs when the head and neck are swung about in a violent fashion that can injure the joints, muscles, and connective tissues of the neck. This can cause a wide range of reactions including nausea and confusion. This is one of the most common injuries sustained in a motorcycle accident.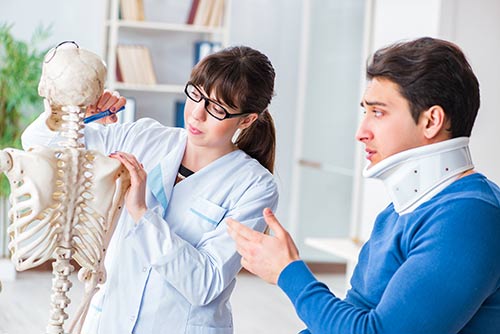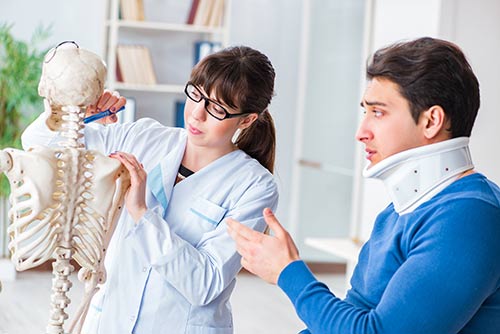 Broken Bones
Being thrown from a bike almost always results in a violent impact on the skeletal structure of the body. This can lead to a wide variety of broken bones including hand and wrist bones, femurs, ulnas, tibias, clavicles, and even broken ribs.
Traumatic Brain Injuries
If the head is impacted, even the presence of a helmet may not be enough to protect from severe concussions and internal hemorrhaging. Damage to the brain can result in serious and life-long conditions.
Road Rash
Most street-smart bikers will war tough protective gear to protect them if they are thrown onto the hard asphalt. Road rash can lead to seriously torn skin and flesh and may result in serious scarring.
Spinal Cord Injuries
A violent impact on the back can result in injury to the spinal column protecting the vital spinal cord. These injuries can lead to the partial or full loss of certain bodily functions and control over movement.
How is Fault Determined in a Rogers, AK, Motorcycle Accident?
Arkansas uses the rule of modified comparative fault or modified comparative negligence when deciding who is to blame for causing specific injuries. Here's a breakdown of what that means.
Negligence
To begin with, negligence refers to actions or inactions that violate a duty one party has to another party. For example, a driver who is talking on their phone while driving is not upholding their duty of safe driving to all other motorists. Likewise, a driver who does not use their directional signals is acting in a way that no reasonable driver would.
When a negligent action results in the injury or death of another party, liability can be established against the negligent party. Courts will award compensation to the injured party at the expense of the negligent party or their insurance provider.
Modified Comparative Fault
Under the law of modified comparative fault, if both parties are found responsible for the accident, the rules of compensation are applied differently. If a motorist runs a red light and collides with a car in the intersection, they may be found responsible for causing an accident. But, if the victim was also speeding at the time of the accident, they may also share responsibility in the accident and subsequent injuries.
In such a situation, the responsibility in the accident will be assigned to all parties involved in the form of a percentage. For example, the driver who ran the red light could be as much as 80% responsible but the speeding victim's action can account for 20% of the accident.
This will affect the compensation accordingly. If the damages incurred in the accident amount to a total of $100,000 the at-fault driver will only be liable for 80% or $80,000. Because the victim was 20% to blame, the $20,000 will be deducted from their responsibility.
What Type of Compensation Can I Receive for My Motorcycle Accident?
Without a full professional examination of your case and its detail, it will be hard to say what type of damages you can expect from your motorcycle accident lawsuit. But, there are generally three categories of personal injury damages that can be claimed by the victim or their immediate family.
During your initial consultation, we can provide you with a better idea of what type of damages apply to your case.
Economic Damages
These damages can be easily accounted for by collecting receipts, bills, pay stubs, and financial history. They cover the costs of medical treatment and attention from the beginning of the accident until the victim has completely recovered. They also take into account how injuries affect earning potential by covering lost wages in the past, present, and future.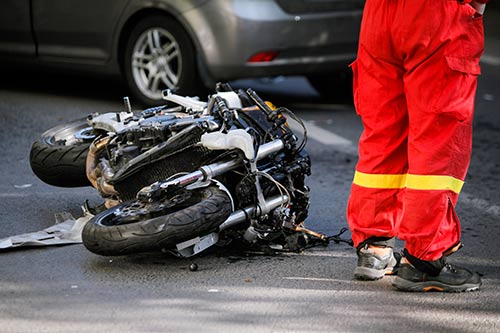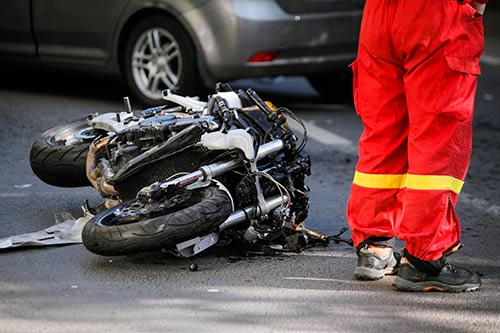 Noneconomic Damages
These damages can be a bit harder to calculate and will often require the advice and testimony of expert witnesses. Non-economic damages are compensation for the pain and suffering the victim will experience because of their injuries. This can also include how their injuries will affect their quality of life. The consequences of a motorcycle accident can impact every facet of a person's life from their relationships to their mental states. These damages will all be given a dollar amount when your claim is negotiated and/or brought to the courts.
Punitive Damages
If the courts find the actions of the defendant especially reckless or egregious, they may choose to apply punitive damages to the defendant. These damages are applied for the sole purpose of punishing the at-fault party. The amount will be decided by the severity of the defendant's actions.
Why Was My Motorcycle Accident Claim Denied?
Insurance companies didn't become a billion-dollar business by making a lot of payouts. The insurance providers will look for every reason to deny your claims. Here are some of the most common reasons they will do this.
The Policy Lapsed or Was Canceled
If the liable party has insurance, but it has expired or they are in a lapse of service, the claim will be denied immediately. This can happen to anyone and is a good reason to check and recheck that your policy is valid at all times. This is an important reason to have full coverage in your policy as well.
You Have Insufficient Coverage
If you have full coverage, you will not have to worry about how other people manage their insurance business. Full coverage includes uninsured motorist coverage. There is also the underinsured motorist coverage for when the driver at fault has insurance but not enough to cover damages.
The Driver Was Uninsured
There may be times when the driver in the car is not listed in the insurance policy. In such a case, it will be important to consider the permissive use and non-permissive use section of your insurance policy. The bare minimum liability policy does not typically include this type of coverage.
Permissive Use
Under Arkansas' permissive use law, other parties that are not listed in the insurance policy may also drive the car and take advantage of insurance coverage. This can apply to other family members of the household and even dependent children not living in the same home. This permission may also be granted to friends who would like to borrow the vehicle if the policyholder has authorized this.
Non-Permissive Use
If a vehicle is taken without permission from the owner or policyholder, this is called non-permissive use. If your car is in an accident during non-permissive use, you may not be responsible for the damages to other cars, but your property damages will have to come from your insurance policy. If your friend borrowed the car, they may be able to cover this with their valid insurance policy.
If you want to claim non-permissive use against someone in your household, you will need to provide some proof that you were against their use of your car. You will also want to check your policy to see who is allowed permissive-use of your car.
They Believe the Accident Was Your Fault
If the claims adjuster believes that the accident is your fault and not the fault of the other driver, then liability is being contested. This can sometimes result from a lack of solid evidence or a police report taken at the time of the accident.
Are There Time Limits to Filing a Claim in Arkansas?
If you have been involved in a motorcycle accident, you should get the legal process started as soon as possible. The first reason is that the case will always be stronger when based on lots of fresh evidence. Furthermore, there is a time limit for personal injury and wrongful death claims in the state of Arkansas.
Personal Injury: Arkansas has set a time limit of three years from the date the injuries were sustained.
Wrongful Death: If the motorcycle accident results in a tragic death, the lawsuit must be filed within three years of the death of the victim.
Schedule a Free Consultation with a Rogers Motorcycle Accident Lawyer
If you or someone in your family has been involved in a motorcycle accident in Rogers, Arkansas, a lawyer can shed light on your options and help you get the compensation you deserve. Here at Keith Law, our attorneys are dedicated to getting maximum compensation for our clients. Call us at (479) 326-7761 to arrange a free consultation today.