Bentonville is a part of Arkansas. It is the 10th largest city in Arkansas. The National Highway Traffic safety administration (NHTSA) recently released its early estimated statistics on motor vehicle fatalities for 2021. As per this report, Arkansas sees an 8.2% change in estimated fatalities compared to the previous year. In 2020, the reported fatalities were 638; in 2021, the estimated fatalities were recorded as 690. Though the change is minimal, it is on an increasing trend.
If you have been a victim of an auto accident in Bentonville or a hit and run case, you can get a lawyer in Bentonville. If you are unsure if you should get a lawyer or not, here are some of the instances where getting a Bentonville car accident lawyer can help you out.
When Should You Hire a Lawyer for an Auto Accident in Bentonville?
Getting in touch with a lawyer after a crash in Bentonville, Arkansas is always wise. There are some situations where legal counsel is especially important.
When You are Partially at Fault

Do you think you were partially responsible for the auto accident in Bentonville you were involved in? Even though you were, the first thing to do is not accept it. It is important to stay silent even when the at-fault tries to start a conversation.
Moreover, Arkansas follows the modified comparative rule. According to this, if you were partially at fault, your compensation amount will be reduced by the percentage of your fault.
In these cases, the insurance company or the defendant's attorney of the at-fault driver will try to force the maximum fault of the accident on the victim. At this time, having an auto accident lawyer by your side can help your big time. He may not only reverse the situation but may also prove that the modified comparative rule shouldn't apply in this case.
When You Do Not Carry PIP insurance
In Arkansas, it is mandatory to have bare minimum insurance covering $25,000 for bodily injury or death of one person, $50,000 for bodily injury or death of all persons in the accident, and $25,000 for property damage. This insurance allows you to cover the expenses if you were the at-fault driver, i.e., it does not apply to your own injuries or vehicle damage.
However, carrying PIP insurance, i.e., personal injury protection, isn't mandatory. This liability coverage is necessary when you are the victim and the one who was injured in a car accident.
If you do not carry PIP insurance in Bentonville, Arkansas, or no-fault insurance protection, you have two ways to get the compensation. One, you can file the claim with the other party's insurance company, or two, file a personal injury lawsuit in a local court against the other driver.
In either case, an auto accident lawyer can help you deal with the claim. They may talk to the insurance company for settlement. If the insurance company isn't willing to negotiate or come to a settlement, the lawyer will help file the lawsuit.
When filing the lawsuit, the lawyer is responsible for following the process of filing any case, collecting evidence, arranging documents that help in the estimation of the claim, extracting police reports, presenting your case before the judge, and more.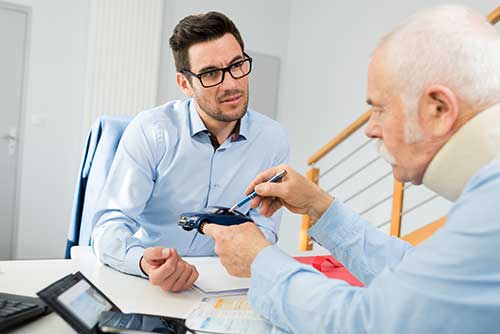 When You Have Sustained Serious Injuries
You should hire an auto accident lawyer for two reasons if the auto accident in Bentonville involves serious injuries. One, the lawyer will help you recover the lost wages. In case of serious injuries, which may count as a disability, you may be unable to join your workplace. You are also not eligible to claim worker's compensation in these cases.
To recover the lost wages, a lawyer will help estimate the medical expenses that should be recovered first. Two, the lawyer will ensure you are compensated in full by either moving to the court or asking for a claim from the other driver's insurance company.
At times, the injuries take time to show up. In such cases, the lawyer will also help establish that the injuries are the result of an auto accident only and aren't associated with anything else.
When It Involves Multi-Vehicle Crash
If you are a victim of a multi-vehicle crash, the case becomes more complicated. It isn't easy to find a clear at-fault driver in this case. A multi-vehicle crash is dealt with differently, and you may need an auto accident lawyer to help you get your rightful compensation.
At first, you may have to consult a lawyer, whereby the lawyer will first understand your case and take it up accordingly. There may be more than one at-fault driver in a multi-vehicle crash. Moreover, if there is only one at-fault driver, it would be difficult to provide compensation to all the other parties as each party would claim for their damages. All this makes it more complex.
When the Insurance Adjustors Are After You
After the auto accident in Bentonville, the insurance adjustors will rush into negotiation. They will urge you to receive the compensation they demand, which is usually less than the would-be estimated compensation. They do so to prevent themselves from paying more if the victim hires a lawyer.
In such cases, the victim should consult an experienced lawyer before accepting or communicating with insurance adjusters. It is feasible to allow your lawyer to talk to the insurance adjusters directly.
When the Auto Accident Results in Wrongful Death
You should not delay in contacting an auto accident lawyer if the accident resulted in the death of your loved one. In case the car accident causes a wrongful death, you can outrightly file a wrongful death lawsuit before the court of law. An experienced lawyer knows the ins and outs of getting compensated in case of wrongful death.
They are aware of the maximum compensation the deceased dependents can get. Each state has its own laws when it comes to wrongful death lawsuits. The dependents are also eligible to recover the non-monetary expenses and sometimes the lost wages for the estimated life of the deceased. Many other benefits are provided to the grievers in a wrongful death lawsuit.
Contact Our Bentonville Car Accident Lawyers Today!
You should consult an auto accident lawyer in Bentonville, Arkansas, within 72 hours of the accident. The initial 72 hours are most crucial for collecting the evidence, finding the witnesses, and accessing the police report. If you want compensation, act upon it as soon as possible to get the best chances of maximum compensation.
Moreover, a couple of hours would be needed for the Bentonville injury lawyer to understand your case and then take appropriate action.