Vehicles are required to have a certain degree of safety. This is mainly seen with the roof that is expected to protect the occupants of any car in the event of a rollover accident. In some cases, you might get into an accident and find that your roof collapses, thus injuring the occupants of the car. Our Rogers roof collapse lawyers can meet with you and let you know if you qualify for compensation.
Car roofs are supposed to meet specific standards to protect you in rollover accidents. If they fail to do so you can hold the party responsible for your roof collapse responsible for your damages. If you find yourself in such a predicament, enlist the services of an experienced Rogers car accident lawyer who is experienced in roof collapse cases and let them get you the compensation you deserve.
Causes of Roof Collapse
Let's face it, your car roof might protect you to a certain degree, but it all depends on the crash and impact. Some of the common reasons for car roof collapse include;
Rollover accidents
Faulty designs and manufacturing defects
Falling objects or a significant amount of ice
Rollover accidents are the most common cause of roof collapse. This is because the car might roll several times, and the weight will be focused on the roof once it is in an upside-down position. Most road accidents result in vehicle rollover as well, and here, it is easy for the car roof to collapse. Essential parts required to protect the roof from collapse include the roof support and roll bars.
Roof Collapse Statistics
The National Highway Traffic Safety Administration states that 95% of all rollover crashes are caused by tripping. This occurs when the car tires come into contact with something that interrupts their original motion such as a large rock, soft shoulder, or a curb. Other causes of rollover accidents include defective tires, crashes involving many cars, and driving under the influence.
Projections indicate that there is an increased probability of the occupants of a car to suffer from severe injuries when the roof collapses. Annually, more than 667 lives are lost as a result of roof crashes resulting from rollover accidents.
What Are Some of the Injuries Causes By Roof Collapses?
Besides the loss of lives, occupants in a car whose roof collapses can suffer from a wide array of injuries. They include;
Spinal cord injuries
Traumatic brain injury
Broken bones
Bruised organs
Loss of limbs
Blood loss
Internal bleeding
Nerve damage
Paralysis
What Are The Federal Car Roof Safety Guidelines?
The government conducts on-road dynamic rollover tests on most new cars. This is done to get a rollover score, and it involves putting cars through a handling maneuver that is aimed at simulating the scenario one would find themselves in the event of an emergency.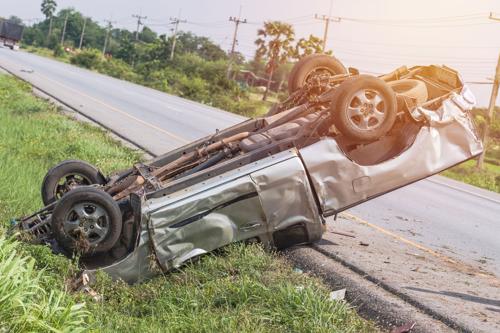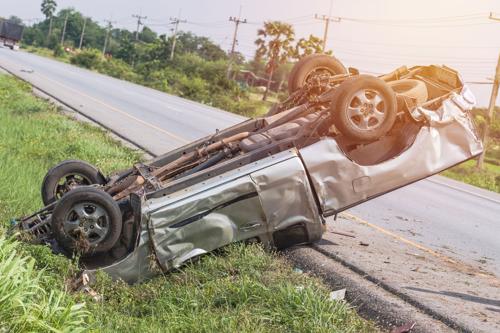 The NHTSA has various tests for different cars, and this helps to yield a score for every car that one needs to check before they buy it. The NHTSA has moved further to govern the strength of motor vehicle roofs sold and distributed in the United States. These regulations constitute the minimum standard that all cars should uphold as they are expected to withstand a mass of one and a half times the vehicle's weight in a rollover accident.
Who Can Be Liable for A Roof Collapse Accident?
In the event of a roof collapse accident in Rogers, Arkansas, various entities can be held liable as the people injured will have to be compensated for their injuries. It all depends on the circumstances surrounding the roof collapse and how it happened.
The first entity that might be held liable is the manufacturer of the car. This is because the ones tested during the NHTSA assessments might be samples, but the government cannot go all the way and test all the vehicles that are produced. In the event of a rollover accident, the car will be assessed to see if it meets the NHTSA regulations before blame is assigned.
In other cases, the car could have been modified, especially by those who want to change their roof when creating custom cars. During this process, the roof integrity can be compromised, making it easy for the occupants to be injured during a rollover accident. In such a scenario, the aftermarket car designer might be held liable since they are expected to uphold these standards when modifying vehicles.
The companies manufacturing car parts can also be held liable for a roof collapse accident in some instances. This happens when one replaces their car parts, and this compromises the strength of the roof, thus making it unable to protect the occupants in the event of a crash.
Why Do I Need A Lawyer For A Rollover Accident?
Roof crush accidents are complicated as many rules apply to it. Anyone who suffered injuries as a result of a roof crush in a collision is liable to file a product liability claim to cover for the damages such as pain and suffering, past and future medical costs, lost wages, and wrongful death among others.
The essential aspect in these cases is establishing the responsible entities. You will need a skilled team to work for you and put the facts together and prove that the responsible party is to blame for the consequences of the crash.
You need to pursue both economic, non-economic, and punitive compensation to ensure that your medical costs, rehabilitation, lost wages, and emotional stress are catered for as you recuperate from the crash. Do not assume that the insurance company is going to give you the money needed to recover from the collision willingly. They will nullify your claim and try to get away with the least amount of compensation possible.
Contact A Rogers Roof Collapse Lawyer Today
If you or a loved one have been involved in a collision and sustained injuries as a result of a roof crash, we want to help. We have a team of qualified experts who understand how these cases are handled and will go all-in to ensure that you get the compensation you deserve. Contact us today at (479) 326-7761 for a free case evaluation, and we will be glad to help.