Across the United States, there is growing popularity in the use of all-terrain vehicles (ATVs) especially in states like Arkansas where there is plenty of countryside space that allows for outdoor activities like cross-country sightseeing and vacation. Unfortunately, the hike in the use of ATVs especially among young people has conversely led to numerous accidents.
Throughout Arkansas, there are hundreds of ATV accident cases being reported on a monthly basis with victims sustaining serious injuries which are sometimes fatal. Our Rogers ATV accident lawyers can help you file a personal injury claim against the person who was liable for causing the accident and get compensated for any damages to your property, injuries, and other losses sustained.
To file a successful ATV accident compensation claim, you have to prove fault on the part of the individual operating the vehicle. This is where our Rogers ATV accident lawyers come in. We will help you gather the relevant evidence to make a strong case against the at-fault individual and help you recover the maximum amount of compensation offered under Arkansas state law. Simply give our Rogers motorcycle accident attorneys a call at (479) 326-7761 to set up a free consultation for your ATV accident.
ATV Accident Statistics
According to the latest report released by the Consumer Product Safety Commission (CPSC), in 2018, there were over 81,800 injuries reported in hospitals across the United States which can be directly attributed to ATV accidents. Over a quarter of these injuries involved teenagers who were under 17 years. Further, in the same year, there were over 264 fatalities as a result of ATV accidents across the entire nation. Data from the CPSC shows that the state of Arkansas contributed significantly to the statistics mentioned above.
However, despite the alarming number of fatalities and injuries caused by ATV crashes in 2018, the report goes on to conclude that there is a general drop in the overall number of fatalities and injuries compared to previous years. The decrease in the number of accidents can be attributed to the fact that many states are continuing to enact stringent laws meant to protect victims of ATV accidents while at the same time deterring operators of these vehicles from acting in a manner that increases the risk of accident occurrence.
Which Type Of Vehicle Is Considered An ATV In Arkansas?
The state of Arkansas recognizes a vehicle to be an ATV if:
It is a three-wheeler, quad-wheeled or six-wheeled
The vehicle has a width of 75 inches or less
The vehicle weighs less than 800lbs
The vehicle has a tank capacity of 650cc or less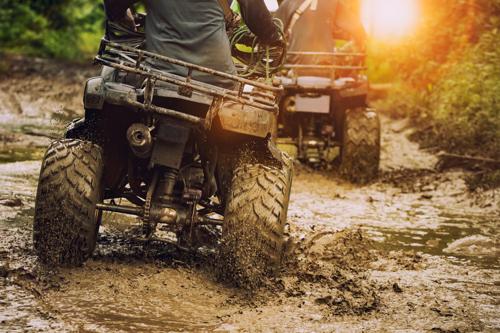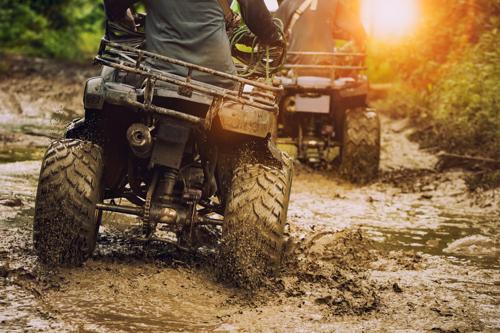 However, there are certain vehicles that meet the specifications mentioned above which are not considered to be all-terrain vehicles by the law such as garden tractors, lawnmowers, and golf carts.
What Laws Regulate ATV Operation In Arkansas?
You can operate an all-terrain vehicle in Arkansas as long as you are over 12 years of age. Children who are under 12 years can also operate ATVs in the state as long as they are being directly supervised by an adult. Additionally, children under 12 years of age can operate these vehicles while in the confines of private properties. In such cases, the law assumes that they are under the supervision of adults who own the property.
To operate an all-terrain vehicle within the confines of the law in Arkansas, you must ensure that:
Your all-terrain vehicle is registered with the motor vehicle registration department in the state
You have a valid title of ownership for the ATV
You are at least 12 years of age. If you are younger, you must be supervised at all times by an adult
Additionally, you must ensure that your all-terrain vehicle has the equipment listed below:
A quality noise muffler in perfect working condition to avoid noise pollution
A quality spark arrestor that meets the standards set by the National Forestry Service
Proper lights and safety lighting if you are operating the ATV at night
In Arkansas, there are no laws limiting passengers on an ATV or requiring that one wear protective gear when operating the vehicle. However, given that most injuries and fatalities can be attributed to the lack of safety gear when driving an ATV, it is better to stay safe by acquiring the recommended safety equipment.
Where Can All-Terrain Vehicles Be Operated In Arkansas?
State law prohibits the operation of ATVs on highways and public roads except in the following special circumstances:
When there is an emergency
You are a utility officer who is on official business
You are crossing the road to get to your property
You have a serious physical disability and are using the ATV as a means of transport
Are There Penalties For Operating An ATV Improperly In Arkansas?
You can get fined for driving your all-terrain vehicle without meeting the legal requirements in the state. Depending on the severity of your offense, you can even be sentenced to jail for up to 30 days!
If you operate your ATV Improperly and in the process cause damage to another person's property, bodily injuries, or even wrongful death, you can be served with a personal injury claim and forced to offer monetary compensation to the affected individual.
What Are The Most Common Causes Of ATV Accidents In Arkansas?
As mentioned earlier, the State of Arkansas contributes a significant number of injuries and fatalities caused by ATV accidents to the national statistics. Some of the most common reasons why all-terrain vehicle accidents occur include:
Lack of proper protective gear when operating the vehicles
Operation of ATVs by untrained drivers
Operation of ATVs by young kids without adult supervision
Driving of ATVs on highways and paved roads in total disregard of the law
Reckless driving
Excess speeding
Operation of ATVs while under the influence of alcohol and/or other controlled substances
Excess passengers on all-terrain vehicles
Poorly maintained roads
If you are the victim of an ATV accident because a driver commits one or several of the negligent actions mentioned above, we can help you get compensated for any damages or losses you incur during the accident. Get in touch with us today so that we can review your case and help you determine the appropriate compensation amount to claim based on the facts around your case.
What Compensation Can I Receive From An ATV Accident Claim?
The total amount of damages you will be awarded on filing a personal injury claim after an ATV accident across all areas in Arkansas will depend on the unique facts of your case.
In Rogers, Arkansas, damages are typically classified into three categories:
Economic Damages
These damages usually include any direct financial losses or expenses that you accrue as a result of an accident. Financial damages may include the cost of damage to your property, treatment expenses, and any income you lose while recuperating from your injuries.
Non-Economic Damages
These damages are intangible losses that you sustain after an accident. Examples of non-economic damages may include any compensation you are offered for pain, stress, and emotional distress.
Punitive damages
This is a form of compensation that is usually offered to victims of ATV accidents against the person who caused the accident to deter the at-fault individual from repeating similar actions in the future. Simply put, punitive damages are usually given as a form of punishment to the wrong-doer and as a warning to other people to not repeat the actions of the individual.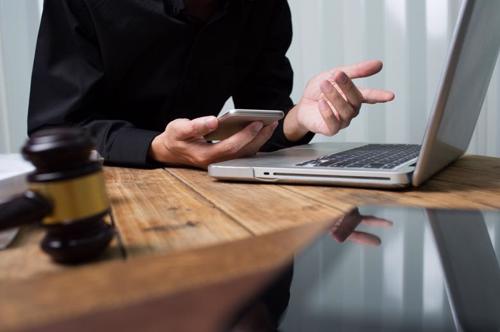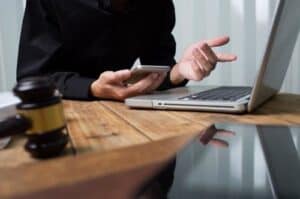 On filing an ATV accident claim in Arkansas, your cumulative compensation will take into account economic, non-economic, and punitive damages leveled against the individual responsible for the accident.
Why Should I Hire A Rogers ATV Accident Lawyer?
There may be multiple parties responsible for your ATV accident. Identifying who to sue for compensation and proving fault on the part of the parties you are suing can be difficult. However, an Arkansas ATV accident lawyer can help you pinpoint the parties liable for your accident and help you in gathering sufficient evidence to bolster your compensation claim against the responsible parties.
At Keith Law, we have helped many victims of ATV accidents throughout Northwest Arkansas to successfully pursue compensation and justice from the people responsible for their losses and suffering. With our extensive legal acumen, expertise, and experience. We can also help you get fully indemnified.
To get started on your claim, call our team of lawyers on (479) 326-7761 to get your claim started with a free consultation.