Motorcycle accidents are some of the most dangerous types of motor vehicle accidents reported in northwest Arkansas. They often result in serious injuries for all parties involved, but especially the motorcycle rider. Since the injuries are so serious, you may have a significant claim for damages.
A Fayetteville motorcycle accident lawyer with Keith Law will fight hard to ensure that you receive the compensation you are entitled to. So, make sure that you get in touch with us today to schedule your free initial consultation by dialing (479) 326-7761 or filling out the form provided.
How Can A Lawyer Help With My Motorcycle Accident Claim?
Insurance companies will start investigating the accident as soon as they know that it happened. You will be required to prove your case even if you are the innocent victim of a collision. However, that's easier said than done, which is why you need to hire a reputable motorcycle accident attorney.
We have years of experience with motorcycle accident cases and will work hard to secure compensation for you so that you can focus on your recovery. By aggressively pursuing your claim, we increase the chances of a favorable judgment or settlement.
What Are the Motorcycle-Specific Laws in Arkansas?
Arkansas is one of the few states that doesn't require adults to wear helmets. Still, all motorcycle riders under the age of 21 are required to wear helmets while those older than 21 are not legally required to wear protective headgear.
Here are other motorcycle laws in Arkansas:
All motorcycle riders are required to wear eye protection
A motorcycle that carries a passenger must have a passenger seat
Passengers under the age of 8 cannot be carried on a motorcycle
Headlights are required for daytime riding and modulating headlights are allowed
Turn signals aren't a requirement
Riders below age 16 aren't allowed to carry passengers on a motorcycle
No more than 2 people are allowed to ride on a motorcycle
Following all the laws above will keep you safer, on the right side of the law, and will give you a much stronger argument in court if you ever suffer a motorcycle accident that's caused by another person's negligence.
How is Fault Determined in a Fayetteville, Arkansas Motorcycle Accident?
In Fayetteville, Arkansas, the person responsible for the motorcycle accident is also responsible for the resulting damages and injuries. Arkansas has adopted a modified comparative fault rule that's referred to when it comes to proving fault in motorcycle accident claims.
Under this rule, if the victim of a motorcycle accident is partly responsible for the accident, the compensation they receive will be reduced based on their level of fault. For instance, if the victim was at 30% at fault for the accident, the compensation they receive will be reduced by 30%.
It is important to note that once the victim's level of fault reaches 50% or more, they may be barred from seeking compensation. The rule sometimes results in bizarre cases where compensation may be denied because the victim's level of fault was over the 50% line by a very small percentage.
What Type of Compensation Can I Receive for My Motorcycle Accident?
Motorcycle accident victims that have been injured due to another party's negligence are entitled to compensation. Several types of compensation may be awarded, including:
Economic Damages
This compensation is awarded to cover both current and future monetary losses, which include medical expenses, lost wages, property damages, etc.
Non-Economic Damages
These damages are awarded to cover non-monetary losses such as pain and suffering, loss of consortium, physical pain, mental anguish, disfigurement, etc.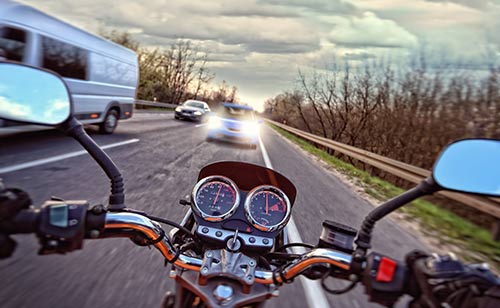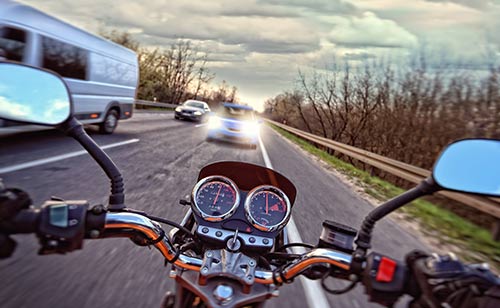 Punitive Damages
This is awarded by the court to the victim to punish the at-fault party for their horrible actions that caused the motorcycle accident.
Why Was My Motorcycle Accident Claim Denied?
Here are some of the situations where your motorcycle accident claim may be denied:
Your Actions Contributed to the Accident
Under Arkansas' modified comparative fault rule, the insurance company isn't required to cover your damages if you were over 50% at fault for the accident. The insurance company can proportionately reduce your damages if you contributed to the accident, but your actions weren't the primary cause.
The Insurance Policy was Canceled or Lapsed
If your insurance policy was canceled or had lapsed at the time of the accident, the insurance company is not legally obligated to cover the costs of the accident. Insurance policies can be canceled for various reasons, but non-payment is usually the biggest one.
The Rider Was Not Insured Under the Policy
If the rider involved in the accident was not on the motorcycle insurance policy, the claim for compensation may be denied. The claim will also be denied if the at-fault rider is excluded from a policy due to their poor driving record.
The Insurance Company Doesn't Believe You Were Really Hurt
Injuries are not always physically obvious, but that does not mean that they aren't there. Injuries such as muscle strain, concussions, etc. might not be physically visible, but can be very painful. Compensation for such injuries is just as important as that for obvious injuries such as a broken bone.
The Insurance Company Doesn't Think the Accident Caused Your Injuries
A pre-existing injury can be one of the factors that negatively affect a personal injury claim. If the insurance company believes that it is possible to diminish the value of your claim by saying that a prior injury is to blame for most of your pain, they will do it.
Insurance companies can make any of these accusations to try to discredit your claim for compensation, which is why you need a competent Fayetteville motorcycle accident lawyer representing you.
Are There Time Limits to Filing a Claim in Arkansas?
The statute of limitations refers to the time you have to pursue compensation. In Arkansas, the statute of limitations when it comes to motorcycle accident claims is 3 years from the date of the injury. If it is a wrongful death claim, you have 3 years from the date of your loved one's death to file your claim.
Schedule A Free Consultation With A Fayetteville Motorcycle Accident Lawyer
A motorcycle accident can be incredibly devastating to the lives of everyone involved, especially the rider. Unfortunately, it is impossible to reverse the harm caused by a wreck. However, our attorneys at Keith Law can demand fair compensation for the injuries you or your loved one has suffered. Call us today at (479) 326-7761 for your free consultation.